Inevitably when someone comes into New Orleans to visit, I have to roll them by the Banksys. And there is usually a photograph taken next to this one –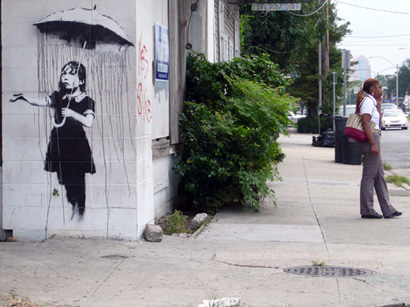 Undeniably, it's a beautiful piece, one that deserves its recognition, as much of Banksy's other works. But usually when I drag people into a larger conversation about street art, Banksy seems to be the limit of their familiarity. Because of this, I wanted to put together a brief introduction to seven other contemporary street artists you should know.
Os Gemeos, or "the twins" in Portuguese, have been painting in Sao Paulo, Brazil, since 1987 and are responsible for shaping much of the local style there. I'm particularly attracted to their work because it's often character based, these strange and elongated people, whereas American graffiti focuses on the letter.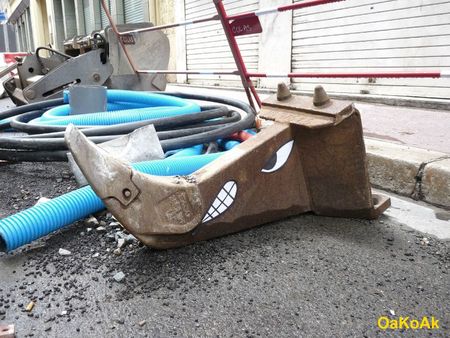 French street artist OaKoAk has a keen eye for visual pun. OaKoAk has the amazing ability to see the humor in the every day and work with what his environment gives him. It is a minimalist approach and what I like is how subtle the work is — for instance here:
Barry McGee is a San Francisco based street artist. I've always been attracted to his use of the letter and how he cops old school sign painting techniques for his own work. When I was a teenager, you always knew when he was in town because Los Angeles would be plastered with these stickers, arguably the best use of the form.
Here is a fantastic ART:21 episode on place about him and his late wife, artist Margaret Kilgallen.
Revok is the epitome of the Los Angeles graffiti artist — a little bit outlaw and a whole lot of movie star. He garnered major fame last year after a series of arrests in Los Angeles and abroad that were directly linked back to his own blog and twitter account where he publicized his illegal work. In 2008, Revok and Augor illegally painted a billboard advertising Japanese pop artist Takashi Murakami's exhibition at MOCA. Murakami, so pleased with the unwitting collaboration, had the billboard taken down and shipped to his studio in Japan.
Another Los Angeles based artist, Retna's work focuses on the letter with deep influences from Los Angeles'  gang style, most directly Chaz Bojórquez, and the artist's own chicano history. Several years ago, Retna began painting large scale collobrative pieces with portrait artist El Mac. One of their most impressive projects is where the two painted murals of denizens of Los Angeles' Skid Row.
Now New Orleans based street artist Swoon, who came to prominence in New York, is known for her ornate and delicately cut life sized wheat pastes. She explains her newest project, Dithyrambalina, an interactive musical house in the Bywater neighborhood of the upper 9th Ward, in this video on Kickstarter.
There are more, more I'm forgetting. More I don't have room for. All of these artists have reached a level in their careers where it's difficult for them to work on the street. Barry McGee's work often disappears as soon as it hits the streets, scavaged and collected. The LAPD is very aware when Revok pulls off a new production and its usually not long before his home's raided.  Something is lost when street artists move in to galleries and museums, and it seems difficult to strike a balance between an art that  is at its core dependent on anonymity but more and more the artists who practice it gain national, and at times international, notoriety. But these folk do it and prove that it isn't all about that English guy.